New DJ Controller Flight cases from FCW
Just arrived DJ Controller Flight Cases from KamKase
Numark, Denon, Pioneer, Traktor.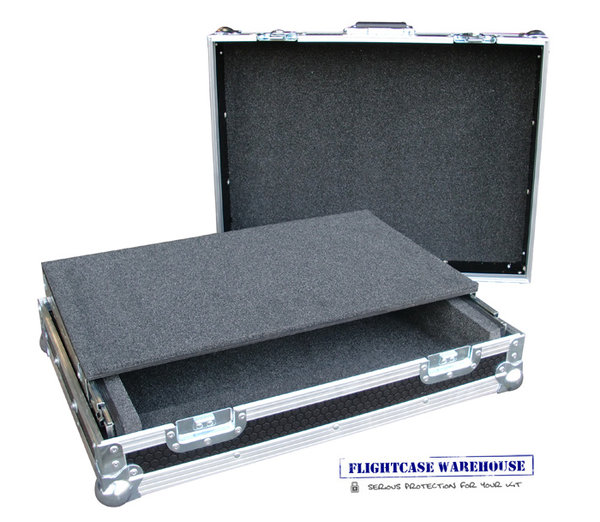 Kamkase are a leading manufacturer of Flight Cases for all applications. All Kam Flight cases are designed in the UK and built using the best available materials. If you choose a KamKase you can be assured your equipment will get the protection it deserves.
Our sales team is always on hand to discuss your requirements if this Kam Flight case does not suit your needs.
7mm Smooth black laminate board
Removable Lid
Full touring spec fittings
Sliding laptop shelf fitted
Foam lined
Gap at rear
Front panel for access to controls and headphone sockets
View Cases Here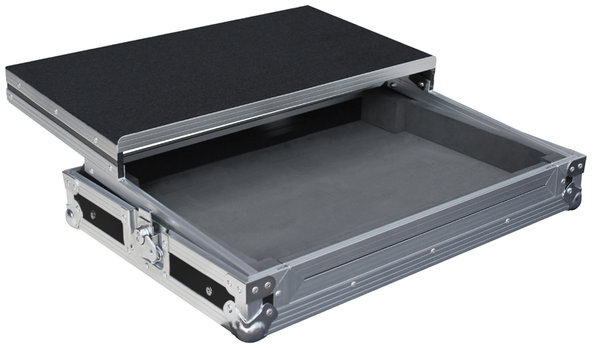 Nex Day Delivery
Drones are, like it or not, playing an increasingly bigger part in both our work and everyday day lives. Whether they are now an integral part of your job, you're an enthusiast, or you are just interested in the medium, let's take at some of the different ways drones are becoming integrating into our world.
The first and most obvious application of a drone is as a camera. Whether you want to film panoramic views of the landscape, follow your friend as they complete a difficult mountain bike or ski course, or even garner images for general ordnance, the scope of drone types available suited to film on the modern market is incredible. Possibly there most famous and well used feature, camera drones way well see more use in sectors such as construction or law enforcement thanks to their proven reliability in fields like media, artistry and live events.
Another use for drones that is being introduced is as a lighting unit. Whilst unconventional, it is feasible that a drone equipped with a spotlight for example, could be wirelessly paired with a stage performer. From here, the drone could bathe its target with light free of user control, allowing for a greater amount of freedom behind the lighting desk. A great example of this in entertainment is from the 2017 superbowl where superstar Lady Gaga utilised LED drone to create a spectacular backdrop that could move and adapt in real time to music, light waves and changing patterns. Drones really could change the way live events are handled!
Then there are the functionality and flexibility aspects of drones. We're seeing artists employ drones as a means to paint onto walls that would typically be too high to paint without the use of time constraining and expensive scaffolding. Using a drone as a remote controlled or programmable paintbrush is a high tech solution to an artistic challenge.
Logistical problems however, are where drones excel. Many different distributors are now taking to exploring the possibilities of having drones on their delivery team and what this would mean for their lead times and availability. Amazon.com has famously being researching and slowly beginning the rollout of drone-lead distribution, and it may not stop there. Driverless lorries, driverless cars and even hover-drone taxis (yes, really!) are all being researched by big industry-leading names, prompting the question "what's next" from these versatile machines?
The last use of drones is admittedly, a childish one but looks to be a lot of fun. We're talking about drone racing – picture super-quick hovering robots flying around a track racing each in a flurry of activity that you'd only see in the 21st century.
Whatever use you're thinking of putting your drone too, Flightcase Warehouse can help keep your valuable kit safe, secure and in prime condition. We manufacture a specialist range of cases especially for drones, which are available online ready-made. If you have a more specialised requirement we can design and deliver bespoke creations from our Pro Flightcase service. Just contact us today.
Summer is just around the corner, and that means that festival season is almost upon us! We at Flightcase Warehouse love to support these great weekends out, and enjoy nothing more than knowing that our products help the event professionals who work tirelessly to deliver these spectacular events to you. With Radio One's Big Weekend about to launch the festival season, we have compiled a list of some of the other most prominent festivals within the UK that you can enjoy this year.

1) The Isle of Wight Festival
Taking place on the Isle of Wight itself, the festival has roots that date back to 1968, undergoing a revival in 2002. The festival features an eclectic mix of acts, with artists from genres ranging from hard rock to pop, and many more scattered throughout the stages for the entirety. Winner of 'The Best Family Event' 2015 as well, this is a perfect festival to take your whole family along too-including kids, making for a perfect weekend where the whole family is entertained. And, with such big names as Fleetwood Mac and The Who headlining, you know that you are bound to have a fantastic time.

2) Bestival
Whilst Bestival may not boast the icon studded line up the likes of Glastonbury or Download can shout about, Bestival has carved its place within the British festival scene nonetheless. This is thanks to the Dorset based weekends penchant for being an eclectic experience and what it lacks in massive headliners it makes up for with its incredible and well-designed specialised areas. The ambient forest for example is a professionally lit, meditative sound filled forest scene that is guaranteed to chill anybody out. Taking place from the 7th until the 10th of September, and with acts like Dizzee Rascal and Rag'N'Bone man to look forward to, Bestival is one for those who like to tread a little off the beaten path.

3) Download
Download is the biggest name in rock festivals within the U.K. Held at Castle Donnington, the festival takes the place of 'Monsters of Rock' which was relaunched in 2003 as Download. With a history of booking some of the biggest names in rock and metal and an ardently supportive fan base, Download is one of the most popular festivals within the U.K. This year, Aerosmith, Biffy Clyro and System of a Down are all headlining the main stage, which promises to be a weekend of spectacle as well as incredible music.

4) Creamfields
Celebrating the best that Electronic and Dance music has to offer, the Daresbury located festival will this year be held from the 24th of August until the 27th. Creamfields has long been known as the U.K's festival of choice for anybody who loves dance music. Winner of the UK Festival Award for Best Dance Event and the UK Festival Award for Best Major Festival, it deserves all of the recognition it receives.

5) Glastonbury
Whilst nigh impossible to receive tickets, Glastonbury is possibly the biggest name when it comes to British Music Events ever, possibly even one of the biggest names worldwide. This year will see Radiohead, Foo Fighters and Ed Sheeran all headline the incredible pyramid stage, and combined with the rest of the prestigious artists already announced, promise to deliver an unforgettable set. Much like many other festivals there will be extensive coverage of the acts on television and the internet, so be sure to go online and stay up to date with everything happening throughout the weekend!
These are just a few of the biggest festivals happening in the UK this year, there are many for catering to all different spectrums of musical taste. We at Flightcase Warehouse are massive supporters of the summer festival, and if there is any way that we can help your event go off without a hitch, then contact us on 0800 612 7097, email us, or visit our website.
The Upcoming Red Letter Days in Motorsport

The Spanish Grand Prix has just ended, and what a fantastic weekends' worth of racing it was. Summer is always a brilliant time for motorsport and with spring drawing to a close, we're now looking ahead to what's going to be keeping us entertained on the track next month too. Here's a pick of some of the biggest motorsport events on the upcoming calendar, and why we think they're worth the watch.

The Monaco Grand Prix (25th – 28th May):

Obviously, this is a big one. Described on the official Formula One website as 'distinct from the sport from which it was born', the Monaco Grand Prix is the highlight of the Formula One enthusiast's year, with a track that has been for years the pinnacle of technical testing. With overtaking 'next to impossible' qualification is more important than ever in the Monte Carlo circuit, which has remained largely unchanged since its place in the 1955 championship due to its demanding layout. This is all without mentioning the prestigious location in which the race takes place, with Monte Carlo being not only a great spot for F1 fans but anybody who was lucky enough to get tickets!

The Isle of Mann TT (27th May – 9th June):
A departure from the four wheel fun that takes such a large place on this list, the Isle of Mann TT is the red letter event when it comes to displays of superbikes and their speed. With the drivers of these bikes reaching speeds of up to 200mph on a course that is host to sharp bends, jumps and solid stone walls, any spectator will be impressed with the nerve that these drivers display when they are gunning for first place. The Isle of Mann comes alive for the event, with lots to do even outside the race times, making the TT an incredible few weeks for any fan of superbikes, speed, or motorsport in general.

Goodwood Festival of Speed (30th June – 2nd July):

Taking a step back from the competitive nature of motorsport, the Goodwood Festival of Speed is a celebration of the sport as a whole. With an incredible host of cars on display, from classic to super, it's the perfect way for any petrolhead to spend the long summer weekend. There will also be air displays and a number of famous faces at the show as well, for those who want to keep the action light. It's not all slow and steady though, with the famous hill climb pitting some powerful machines against each other and a rally stage that will see a hair raising course through the woods, all against the clock.

Le Mans 24 Hour Race (17th 18th June):

The 85th occurrence of the world famous race that tests endurance just as much as ability, the Le Mans endurance race is renowned for displays of incredible driving and fantastic

engineering. One of the 'Triple Crown of Motorsport', the Le Mans 24 hour race has inspired countless other events of a similar nature, including both a classic car and a superbike version! Many automotive giants use the Le Mans endurance event as an opportunity to test out the latest in their technology, so any spectators want to be on the lookout for exciting new features and models!
Remember, for any of your motorsport or engineering needs, Flightcase Warehouse stock and design products specifically to keep your engine and tools completely safe. Whether you're just a beginner, or a complete professional, our flight cases will ensure your kit stays in racing condition no matter the circumstances. Get in touch to find out more, or visit our website to view our extensive range of stock!