New DJ Controller Flight cases from FCW
Just arrived DJ Controller Flight Cases from KamKase
Numark, Denon, Pioneer, Traktor.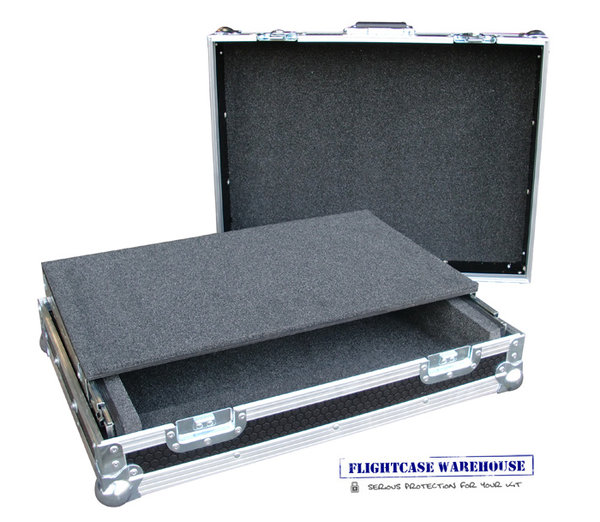 Kamkase are a leading manufacturer of Flight Cases for all applications. All Kam Flight cases are designed in the UK and built using the best available materials. If you choose a KamKase you can be assured your equipment will get the protection it deserves.
Our sales team is always on hand to discuss your requirements if this Kam Flight case does not suit your needs.
7mm Smooth black laminate board
Removable Lid
Full touring spec fittings
Sliding laptop shelf fitted
Foam lined
Gap at rear
Front panel for access to controls and headphone sockets
View Cases Here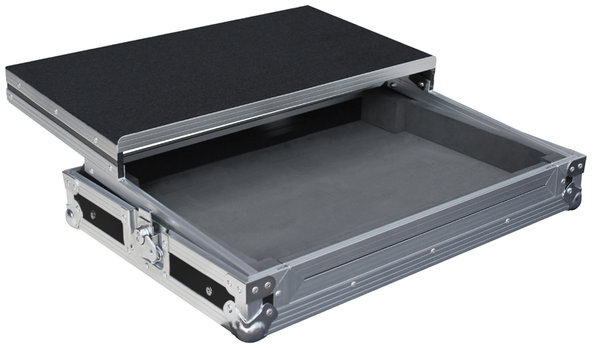 Nex Day Delivery
We here at Flightcase Warehouse have got a really busy event schedule, and we wanted to take a moment to talk about the various different shows we will be exhibiting at in 2017!

Fresh from the amazing PLASA focus show in Glasgow, we are headed to ISE Europe from the 7th-10th February. It will be held at the RIA in Amsterdam, so you can imagine how excited we are to be participating amongst so many different brilliant contributors to the industry. With the show featuring a Drone Arena that promises to demonstrate the latest applications and technologies within drones (and how they can be applied best within the industry), as well as a special Russian Market Event that will provide in depth information on how to expand into Russian export market. ISE is going to be a very interesting and rewarding event!

The following month we shall be attending the Event Production Show at the Olympia in London. Taking place on the 1st and 2nd of March. The Event Production Show is 'the leading event for the U.K's live event sector'. We are proud to be included on such an impressive list of exhibitors, who all contribute a great deal to the production world. We are also anticipating some very interesting presentations on subjects such as event security, future event trends and even upcoming technology that is going to reshape the Event Production landscape.
In April, we are going to take part in Musikmesse, at the Messe Exhibition Centre in Frankfurt, Germany. Musikmesse is going to be on from the fifth to the 5th-8th, and promises to be a very inspiring weekend. Musikmesse is a gigantic international trade fair for musical instruments and music production (amongst many other areas of the music industry), and our flight cases will be on display amongst some of the most prestigious names in music! As well as the exhibitors, Musikmesse promises a range of concerts and events, including specially designed guitar and drum arenas, where you are encouraged to try out new products and can receive master class sessions from renowned musicians.

The 9th-10th of May sees us exhibit for one of our favourite organisations PLASA, this time at the Royal Armouries in Leeds. PLASA events are always a pleasure to attend, and if our time with PLASA taught us anything it's that we can expect not only fantastic settings and company from other exhibitors, but also a very warm reception, with incredible feedback on our products from those in attendance. PLASA also boast a diverse range of seminars (Glasgow was packed out) and the Riggers Forum, which always offers helpful information and news. We exhibit again from the 17th until the 19th of September with PLASA at their show at the Olympia in London.

Flightcase Warehouse will be present at the Showman's Show at the Newbury Showgrounds in Berkshire, on the 18th and 19th of October, which is a brilliant, expansive show featuring a huge variety of exhibitors all involved in Outdoor Events. It promises to be a great exhibit and we can't wait for more details to be announced on its seminars and events!

Autumn will see us at BPM Pro also, at the NEC on the 22nd and the 23rd October. Boasting the best in DJ and Studio Sound and Lighting, news and innovations, we are incredibly proud to be exhibiting alongside these professionals, and are looking forward to more details being announced as the show gets closer! We had a very successful 2016 show, and hope to repeat it this year!

This was just a quick rundown of the trade shows and events that Flightcase Warehouse are going to be a part of, so if you require any more information, want to schedule a meeting at an event or want to learn more about our diverse range of protective cases and equipment, feel free to call us on
0800 612 7097 or email info@flightcasewarehouse.co.uk
There is such a wide variety of sports available to play these days that it can be overwhelming when you want to get into a new hobby. When you add equestrian sports into the equation though, beginners can be completely thrown off the trail. Here is a quick guide for those who want to be more involved with equestrian sports, but haven't a clue where to begin.

The first thing any beginner needs to learn are the basics. Just a quick google search on things like horse riding clubs or groups near you that can accommodate and teach you how to begin to ride. Some of these clubs will be able to provide you with the safety essentials like body armour and a helmet, although if you are serious about your commitment, it's always a good idea to buy equipment that is adjusted and perfect for you.

Nobody needs to own their own horse to begin to ride, but it is the specialist training and experience that will see you paired with the right mount that will earn you the best results. Anybody can learn to ride a horse, with many different options available to all enthusiasts regardless of age or disability.
Once you are familiar with riding, you may want to move into a specialised area of equestrian sport. Dressage for example, may not be the highest speed of events, but it certainly is the most technical. With the riders and horses both judged equally on things such as rhythm, harmony and even things like the colour of your hat! Dressage is an incredibly competitive sport, and is prominently featured in the Olympics during the Grand Prix, as well as in the Paralympics as Para-Equestrian Dressage.

Para Equestrian Dressage is ridden in exactly the same way as its able-bodied equivalent, with only the complexity and intricacy of the course modified based on the participants classification of their impairment. A good place to get started, and to learn more about how to compete in Dressage is through British Dressage, the main controlling body of all Dressage events.

Another popular equestrian sport that everyone should be familiar with is Show Jumping. Show Jumping is a staple at the Olympics, as well as many other equestrian events, and the premise is very simple; ride your horse around the course jumping over obstacles in the fastest time, with time penalisations received for any obstacle hit. Show Jumping is an incredibly popular sport, with different levels of difficulty available to literally anybody who wants to participate (like dressage, disability is not an issue).

Your local riding club should be able to help you learn, and even point you in the direction of some competitions to get you started! Alternatively, visit British Showjumping for more information, the official site of all things show jumping.
These are just a few examples of equestrian sports available to compete in, there are so many more to choose from and enjoy. Horse riding is an activity anybody can enjoy; from children to adults, at any level of competency or disability, it's an incredibly inclusive activity. Contact your local Horse Riding club or group near you today to start, or visit The British Horse-riding Authority website to search for group's local to you.

Remember, Flightcase Warehouse have a range of different products available for the equestrian enthusiast, including bespoke options to fit your every need. Any size you need we can create; in the past we have made huge models with built in wardrobes for both horse and rider, to protect all the Dressage accessories that need to be taken on the road!
These days, larger productions have so many dazzling elements included it can be harder than ever to make your show stand out above others, let alone Saturday night prime-time behemoths. Light fixtures and their dynamic use can make the difference between a huge attendance or viewing figures, and being cancelled almost immediately. Whilst set design and special effects are all very important (as is audio), lighting is the key to creating drama and atmosphere on a stage, and it all begins very early on in the production process.

Producers, directors and lighting professionals start with intense meetings months before the show is due to take place, where every aspect of the live event is planned out meticulously. Once the meetings are over and the show is on the road however, production really does begin to speed up. Live tours for example are by nature hectic and fast paced. Many production elements do not survive the rigours of the road, and when beginning its new tour cycle equipment is vigorously tested. The X-Factor for example is a modern day colossus in terms of production efforts alone, and its live tours are no exception. Before every tour, there is a huge (around 17,664 square foot!) arena hired for rehearsal purposes, where all equipment can be tested extensively.

Once all faulty, damaged or outdated equipment has been replaced or re-hired, any staples the show may be known for are perfected, and then it's time to try out any new ideas. LED strobe panels for example have recently become a very popular addition to many live shows, with the wash light feature allowing for it to become a part of the set, rather than another conspicuous production element. Implementing these modern fixtures offer an ability to revitalise any long recurring tour; surprising the audience visually is a guaranteed way to keep interest in your show high.
For the X-Factor, looking to the future is incredibly important. The live tour that precedes the studio show has to match the brand aesthetic, and this can be quite difficult to do in time with the busy schedule demanded by the show. If the set cannot be ostentatious then, it is up to the lighting and special effects team to pack the extra punch. One of the production heads on the X-Factor has been quoted as saying 'The (fixtures) slice through stage lighting to bring an almost architectural look to whole picture and often serving to pull the artist out from the backdrop ensuring they remain the focus of visually busy shows. (Fixtures) Can also be called upon to create dimension and structure to the huge arena shows such as X Factor.'
Lighting is really not to be underestimated. Under the supervision of a great lighting designer, any show can transform itself into the pinnacle of live or televised events through its use of lighting. Whether you are out on the road or mounting a static production in a studio, the right equipment is bound to make a difference in how your viewers receive your work.
To learn how to keep your fixtures and other production pieces safe, visit www.flightcasewarehouse.co.uk. Featuring a great range of UK manufactured flightcases (and similar products) that are designed in house specifically for lighting kit, we also offer many other bespoke solutions for any production transportation requirement. Having proudly worked with the BBC, BskyB and ITV, we know how to handle large scale productions, an