New DJ Controller Flight cases from FCW
Just arrived DJ Controller Flight Cases from KamKase
Numark, Denon, Pioneer, Traktor.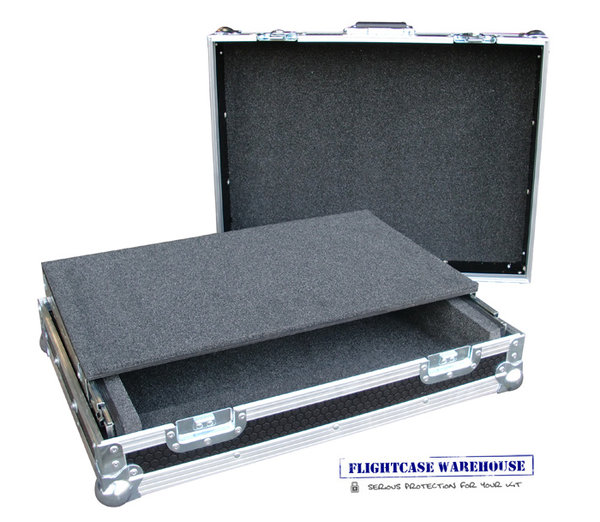 Kamkase are a leading manufacturer of Flight Cases for all applications. All Kam Flight cases are designed in the UK and built using the best available materials. If you choose a KamKase you can be assured your equipment will get the protection it deserves.
Our sales team is always on hand to discuss your requirements if this Kam Flight case does not suit your needs.
7mm Smooth black laminate board
Removable Lid
Full touring spec fittings
Sliding laptop shelf fitted
Foam lined
Gap at rear
Front panel for access to controls and headphone sockets
View Cases Here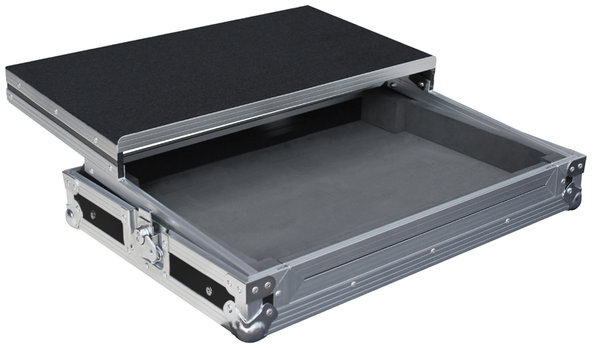 Nex Day Delivery
Flightcase Warehouse Meets MTV
Last night, the biggest stars of the music world took to the stage in Rotterdam for the annual MTV EMAs. Wanting to top off a night to remember with a totally unique memento, MTV asked Flightcase Warehouse to create custom flightcases that'd make the ideal gift for VIP guests. Packed with goodies and stylishly designed, our one-off cases fit the bill perfectly.
Custom Made for MTV
Our bespoke flightcases presented a Souvenir EMA Award, microphone and not one, but two pairs of Évos headphones. We finished the case in true star-studded fashion with branded engravings, LED lighting and a pull away glass panel signed by the celebs themselves!
The big winners of the night
Chart-topping juggernauts Justin Bieber and Lady Gaga both claimed two awards during the night, whilst 20 year old Dutch DJ and producer Martin Garrix also won two trophies. Other EMA winners include British pop act Little Mix, Canadian hip hop artist Drake, teen Swedish newcomer Zara Larsson and alternative US two-piece outfit, Twenty One Pilots. The ceremony itself paid tribute to the late music icon Prince, with the EMA trophies being turned purple – the artist's signature hue.
Feeling inspired?
If last's night's celebrations have you inspired, we'd love to hear about it! Our team of friendly experts are always ready to work on your projects – and not just whether you're in the music industry! Whether you're looking to upgrade existing kit, audit your flightcases for 2017 or need an entirely bespoke solution - make Flightcase Warehouse your first stop. Simply call 01827 60009
We can't believe that it's already been two months since the launch of Pro Flightcase - our bespoke service for custom-built flightcases. Pro Flightcase has already proven to be somewhat of a game-changer for our customers and we've been delighted to see its popularity spread across a diverse range of industries, including retail, audiovisual, lighting and sound, motorsport and equestrian.
Pro Flightcase combines the best of our team's knowledge, skill, passion and practical understanding to deliver quality on budget and on time. Every Pro Flightcase goes through our six-step process, taking it from briefing and planning right through to delivery.
And don't forget, each step offers customisation to your exact requirements – meaning that your valued kit is guaranteed to always find its perfect fit.
1. Brief
You provide us with your requirements – simply call, email or visit us at our Tamworth site and let us know what you need. We then use this information to produce a detailed overview of your flightcase, which we then give back to you for sign off. We won't make a move until you're happy.
2. Measure
Measurements are critical for any flightcase. It's important that you know, rather than guess; to ensure you have the correct measurements, we provide you with both our measuring service and expert advice. We measure twice, cut once.
3. CAD
Your case is designed in a state of the art CAD environment. We use the latest software available - Solidworks and Alphacam, in addition to our own bespoke CAD software. We then present the design to you and request your sign off before progressing with the build.
4. Cut
We continually invest in new equipment, ensuring that your flightcase will be cut using the latest production methods and technology. Our cutting process uses a multi-head CNC alongside precision aluminium and foam cutters to ensure clean and accurate cuts throughout your case's panels, fittings and inserts.
5. Assembly
With 2 production lines, 28,000 square feet of manufacturing space, and departments specialised to handle each aspect of the assembly process, we're able to provide some of the fastest build times in the industry.
6. Dispatch
Once assembled, your flightcase will undergo a rigorous quality control process to ensure it meets all of your requirements. After we have received the final sign off, the case will be packaged and dispatched. We're able to deliver anywhere, and offer a range of couriers to choose from.
Due to popular demand, Flightcase Warehouse is once again stocking Road Ready Cases.
Road Ready manufactured cases are built for the long haul and are seriously tough. Constructed from a rugged 9mm vinyl laminated plywood with a tongue-and-groove fit, these cases offer a structurally strong and damage resistant protective solution that will handle whatever the streets throw your way.
Road Ready cases feature a host of features designed to offer maximum protection for your gear, including:
- Industrial grade rivets, hinges, corners & latches for rock-solid structural support
- Heavy duty castors, low profile wheels and rubber feet for easy mobility and to prevent 'road rash'
- Shock Mount suspension system to absorb blunt trauma
They're also packed with convenient solutions tailored to musicians to make your set-up and tear-down quick and easy, such as:
- Hide-away pull-out handles for efficient storage during transit
- Hinged and removable front and rear panels for hassle free access
- Integrated storage compartments to store your cables and accessories
- Pick and fit z-lock foam customised to the shape of your gear
- Cable ports with back plates for convenient cable routing

Here's what Road Ready have to say:
"We do one thing and we do it well. We don't waste time making cases that don't last. Our bad boys are built for the rigors of the road. Built to take a pounding - day in and day out - and look good doing it. That's our calling and we take it seriously. We know you invest a lot of money in your gear and need the toughest protection around - period."

Need a Road Ready case? We're the ones to supply it!
Click here to check out our Road Ready stock!