New DJ Controller Flight cases from FCW
Just arrived DJ Controller Flight Cases from KamKase
Numark, Denon, Pioneer, Traktor.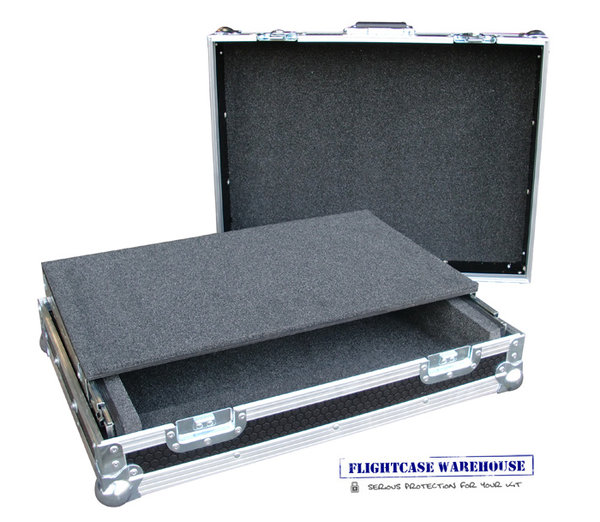 Kamkase are a leading manufacturer of Flight Cases for all applications. All Kam Flight cases are designed in the UK and built using the best available materials. If you choose a KamKase you can be assured your equipment will get the protection it deserves.
Our sales team is always on hand to discuss your requirements if this Kam Flight case does not suit your needs.
7mm Smooth black laminate board
Removable Lid
Full touring spec fittings
Sliding laptop shelf fitted
Foam lined
Gap at rear
Front panel for access to controls and headphone sockets
View Cases Here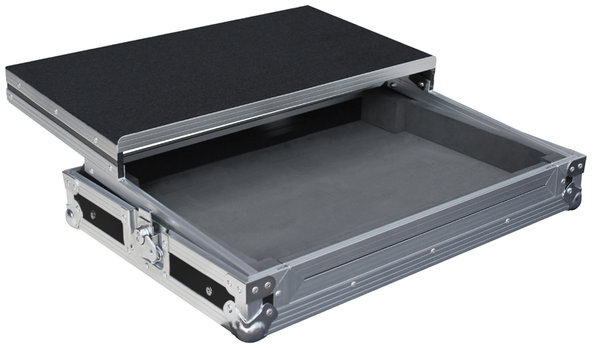 Nex Day Delivery
Live music is bigger than ever in the UK – the last 5 years have seen festival and concert sales become a headline act in the leisure industry, with 2 in 5 Brits attending a live music event in 2015 and spending an estimated £2.1 billion between them.
And for today's bands living in a world of free online video, music streaming services and diminishing record sales, touring is becoming an increasingly important source of fresh promotion, income and connecting with audiences.

However, taking your gear out with you on the road can be stressful. Flightcase Warehouse has worked with a long line of music industry buffs from touring bands to production aficionados, so we know that even on the best of days, professional equipment can be expensive to insure, difficult to repair and often impossible to replace.
The constant setting up, tearing down and travelling between shows can also be intense and hard-wearing for your kit (and at times, you!) so we know that anything that helps keep your operation at full throttle is a win.
Whether you're an emerging artist or a chart topping act, it's essential that you have protection you can rely on to keep your equipment safe and secure while up on the stage, out on the road or at home in the studio. This is where we come in.


Flightcase Warehouse has over 20 years of experience manufacturing serious protection for musicians and technicians just like you.
Our flightcases have joined performers and producers on tour across the globe, and are built to withstand everything life on the road can throw at them. This allows you to focus on what matters most: the music. Here's what Flightcase Warehouse does best:

Safety:We use the highest quality materials, and inserts personalised to your gear to keep it extra-safe and secure during transit and storage.
Reliability: Our products travel across the globe and they don't let down. They're durable, hard-wearing and fit to withstand all of the demands of life on the road!
Branding: We brand our flightcases with your logo, getting your name out there, whether you're setting up stage or travelling between shows.
You also won't ever be kept waiting in the fast moving musical industry. Flightcase Warehouse not only has enough stock you'll ever need, but manufactures directly for the industry too. Just check out proflightcase.com to see the level of care and craft we put into every case we make.
Our range covers everything from guitar, pedal board and amp cases as well as the more unusual cargo with our bespoke options. To top it off, next day delivery solutions are also available. Simply contact our friendly team to discuss the ideal solution for what you're looking for.

Our bespoke service delivers customisation to your specification; simply tell us what you need, and we'll find you a solution – no project is too big, or too small. To check out our bespoke, custom made case service and to start building your very own, please click proflightcase.com To shop our wide range of off the shelf stock – including Spider and Rhino cases - please visit flightcasewarehouse.co.uk
The Flightcase Warehouse team has just returned from the biggest ever BPM PRO Lighting and Sound Show and we're pleased to report back that it was a massive success for us!
The reception to our first public showcase of Pro Flightcase was phenomenal – it was incredible to see so many enthusiastic faces and have the opportunity to spread the word about our brand, products and unique service to the people out there driving innovation in the L&S industry.

The event also proved really beneficial for new business generation. Our team were snowed under (in the best possible way!) with enquiries and kept busy over the three days chatting through leads, drawing up quotes and putting through pre orders. We also relished the chance to launch two brand new Lighting and Sound-specific flightcases, which went down a treat with our specialised audience.
We can't help feeling really proud of what we've achieved both in the build up to and during the event. As well as publically showing our new brand (on a stand complete with our Serious Furniture area, bar and giveaways), it was also our Business Development Manager's first show as a fully-fledged member of the team. Leigh, who joined us earlier this year in the role, has loads of L&S industry experience but BPM PRO was a show first with Flightcase Warehouse, so it was great for customers new and old to meet our most recent addition to the team.

The entire Flightcase Warehouse team would like to thank all who visited our stand over the three day event, and congratulate the organisers on what was a genuinely insightful, successful and really fun event. Our fellow exhibitors all put on a great display too and the passion in and for the Lighting and Sound industry is clearly alive and well. We look forward to seeing you all again next year!
To check out our bespoke, custom made case service and to start building your very own, please click proflightcase.co.uk
To shop our wide range of off the shelf stock – including Spider and Rhino cases - please visit flightcasewarehouse.co.uk
Alternatively, give one of our friendly team in our Tamworth office a call on 01827 60009 with any enquiries you may have!

BPM PRO 2016 opens this weekend, Sunday 11th – Tuesday 13th September – and we can't wait! Flightcase Warehouse will hit the show floor alongside the largest number of exhibitors that BPM PRO has ever seen. We're hoping that we'll get the first looks of some of the most exciting and innovative products and services coming to the Lighting & Sound market in the near future.
Last week we gave you a rundown of some of the standout brands in L&S that we'll be sharing the NEC with this weekend. Here's a few others to do your homework on.

Mackie – mackie.com - Stand PM14
Mackie is a global leader in professional audio products, with a renowned selection which ranges from loudspeakers and mixing consoles to studio and recording equipment. Founded in 1989, Mackie's mission is to provide high quality, affordable recording and live sound gear. Their innovative approach has helped them achieve many industry firsts in the market, so we're betting that their stand will be one to impress.

Grumpy Joes – grumpyjoe.co.uk - Stand LB08
Grumpy Joes is a UK manufacturer of next level party pieces. They produce dance floors, bars and event furniture and are pioneering in their approach. The company is the inventor of the Colour Commander dance floor – a wireless, RGB pixel portable dance floor system which can be controlled by any WiFi enabled device. I wonder if they'll have on for the Flightcase Warehouse team to test out?

FBT Audio – ftbaudio.co.uk - Stand AJ06
FBT have been designing and manufacturing top of the range, highly professional audio products since 1963. Their aim is to deliver products that improve sound quality, making in clean, harmonic and melodies, thus enabling music lovers to enjoy their favourite tunes with outstanding clarity. FBT started life as a simple artisan workshop but is now an industry leader at both national and international level. We're looking forward to seeing what they're offering up for 20-17.

This year's BPM PRO Show marks the event's 10th anniversary, so it's set to be a celebration to remember. We'd love to see you there. Please feel free to drop by to meet us and check out our products at Stand AE11.

It's the first public showcase of our recently launched Pro Flightcase brand too – our exclusive offering for bespoke made custom cases. We're also launching two never before seen products and will be decked out with a flightcase bar and our hallmark Serious Furniture.

Proflightcase.com
Flightcasewarehouse.co.uk