New DJ Controller Flight cases from FCW
Just arrived DJ Controller Flight Cases from KamKase
Numark, Denon, Pioneer, Traktor.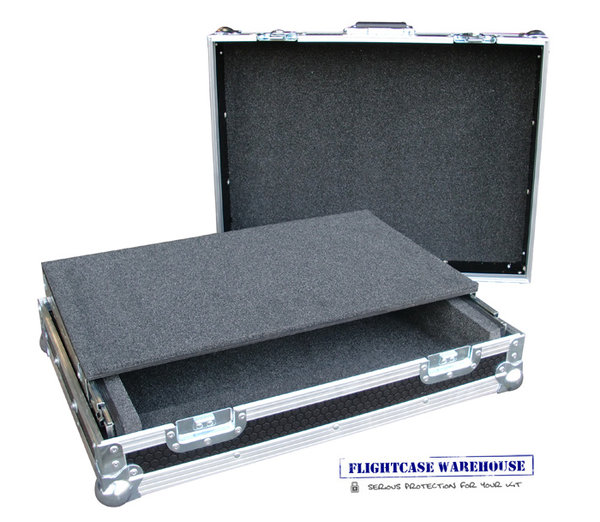 Kamkase are a leading manufacturer of Flight Cases for all applications. All Kam Flight cases are designed in the UK and built using the best available materials. If you choose a KamKase you can be assured your equipment will get the protection it deserves.
Our sales team is always on hand to discuss your requirements if this Kam Flight case does not suit your needs.
7mm Smooth black laminate board
Removable Lid
Full touring spec fittings
Sliding laptop shelf fitted
Foam lined
Gap at rear
Front panel for access to controls and headphone sockets
View Cases Here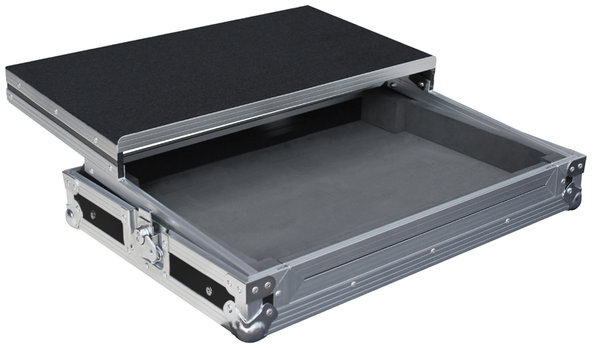 Nex Day Delivery
Back in July Flightcase Warehouse looked at how touring bands utilise the modern skills of events professionals and the capabilities of contemporary technology to deliver standout experiences for their audiences. However, delivering awe-inspiring spectacles that cement themselves in memory isn't a new thing. Some of the greatest performances in history came way before the onset of 21st century digital technology and have established a standard for the glittering, stimulating marvels we enjoy today.
The best performance genre to illustrate our point is that of the constantly evolving "musical theatre". Drawing inspiration from good old-fashioned spectacle (made an essential requirement all the way back in the 16th century by the world's best-know dramatist, William Shakespeare) and the innovative use of the very latest tech and production techniques, when done right, even classic musical theatre shows seem as fresh and exciting as on their premiere night. Despite being around since before the millennium, the below 3 shows are still regulars on theatre programmes the world over thanks to their rare ability to reinvent their stories using innovative technology, modern techniques and contemporary creative direction.

1) The Lion King
A family favourite ever since its inception in 1999, The Lion King has long relied upon its production team to deliver a stunning visual experience for global audiences. The musical has enjoyed many years gracing Broadway stages and boasts tremendous international success, and is well-known for its heavily stylised and unique array of costumes and puppets that engage with actors and iconic musical numbers. The production team behind the Lion King works tirelessly to ensure that the show remains visually stunning, with inventive costume design and puppetry still being a key draw today in 2017.

2) The Phantom of the Opera
A staple of the musical theatre landscape, today's Lloyd-Webber-penned retelling of an Italian classic not only has to ensure that it's in-house orchestra and vocalists retain exceptional clarity (through hidden, wireless microphones in most productions), but that the various set pieces occur without a hitch. A long standing TPOTO tradition is that the chandelier hanging above the audience is dropped from the sky, reflecting action in the storyline. Obviously, as a large weight that needs to endure a controlled (yet rapid) descent there is a large amount of pulley, rigging and chain hoists involved in the drop. A very intricate yet spectacular set piece, TPOTO continues to stun modern audiences with its engineering marvel.

3) Les Misérables
"Les Mis" as it's fondly known, is one of the most famous ever musical theatre productions and the longest running on London's West End. Variations of this novel-come-musical are mounted worldwide, with a need for intricate stage sets and robust sound design wherever staged. Large orchestral capacity is combined with an equally sophisticated mixing desk, with audio engineers working nearly non-stop (as they do on most musical production's) to ensure that not a note is missed. Of course, a big part of the show is the swarming crowds that take the stage, filling complex sets and using props that flesh out the feel of the French Revolution at its height. Never more bombastic than it needs to be, the behind the scenes stage hands work hard to make sure that not only the stage is prepped and ready for the show, but that every cast member is outfitted perfectly.
Musical theatre is a great genre to cast your eye to for inspiration when working in events. Pros in this area often push the boundaries of creativity and capability when it comes to utilising modern and ground-breaking technology, or delivery next-level spectacle to huge crowds. And you can guarantee that they put their trust in protective equipment that will never let them down, even when under logistical pressure or working with demanding kit.
If you require a protective solution for events, AV, lighting, sound, production, broadcasting and much more, please talk to Flightcase Warehouse. We have thousands of off the shelf flight cases ready for next day delivery and also offer bespoke manufacturing if you require a totally tailor-made solution. Call 01827 60009, email sales@flightcasewarehouse.co.uk or visi www.flightcasewarehouse.co.uk for more.
Festival season is almost over – but that doesn't mean that event professionals just stop work outdoors. Autumn and winter may lead to indoor venues taking precedent over their open air counterparts, but there is still a massive market for those who want to be outdoors, enjoying the seasonal atmosphere. Here's a quick rundown of the events that are making great use of the outdoors and equipment, even when the weather is less than accommodating.
Halloween Themed Mazes and Shows:
Drawing inspiration from all of the insanely over-the-top Halloween-themed goings on in the United States, events such as the increasingly popular scare-maze are drawing more and more visitors within the UK. These spooky nights out happen in a varying number of sizes and themes, with councils investing in small and fun family activities, to gargantuan theme parks like Alton Towers constructing elaborate and terrifying mazes (adults only!)
Of course, mainly taking place in the dark, chilled evenings, it's not hard to see why lighting, visual effects and sound technicians are so in demand for such events. Construction can begin as early as summer, with the very best professionals using their skills to attain an almost horror film-like level of Halloween mood.

Christmas Markets:
On the surface these festive outdoor fairs may not seem like the ideal place for event professionals to lend their hand – but as the popularity of these temporary crowd-drawers increases, so does their size – and attractions.
Second cities like Birmingham, Manchester and Liverpool all offer (in addition to the standard market layout) a full, almost festival – like experience. Liverpool for example features an 'Ice Festival', complete with bar, stage and opening night parade. No longer just a market, these winter attractions are becoming a full live experience. And I'm sure we're all familiar with the yuletide extravaganza that is Hyde Park's "Winter Wonderland" in London.
Bonfire Night:
An absolute no brainer. Bonfire Night is a staple of the British calendar – but in recent years it has become an ample opportunity for pyrotechnic teams to demonstrate exactly what they can do, without limitation or direction imposed by a performing team.
Big cities often feature some of the most impressive displays, with pressure mounting yearly to top the previous performance – as well as outdo rival displays throughout the country. Guy Fawkes night is a great opportunity to check out what professional pyrotechnic teams are capable of (even in the adverse weather we are so used to seeing on the 5th of November)!

If you are planning on running one of these seasonal outdoor events, and want your kit to stay protected, be sure to visit www.flightcasewarehouse.co.uk. We stock a wide variety of off-the-shelf protective solutions, with our bespoke arm Pro Flightcase able to cater to any custom specification you may need. Call 0800 612 7097 for more information today.
Despite being in what seems to be a golden era of digital, cloud based communications and control panels, an increasing amount of professionals are being called to travel for their work. For many, the likelihood of packing up equipment and travelling with it all over the country, or even abroad is becoming a matter of when, and not if. But don't feel daunted! We've put together a few quick lines of advice for the uninitiated professional traveller and the essentials to consider when taking equipment away on business.
1) Musicians
On the outside of it, the bare essentials seem pretty cut and dry for musicians. Protection for your instrument coupled with a decent solution for whatever form of amplification that you need (if you do in fact need it) would tick most of the boxes. But what many musicians fail to consider is the sheer amount of technology that goes along with playing an instrument. Often, many cables are required, digital amps and preamps can be essential and instrument effects can take a lot of room up as well – possibly even more than the instrument itself!
Before you embark on the road with your musical equipment, make sure that you know exactly what kind of protection you'll need to keep your livelihood in one piece when travelling. And don't just count on compartments inside your instrument case!
2) Event Professionals
More often than not, hardworking event professionals are in charge of storing the equipment of everyone on the job (including client belongings) on top of their own expert technologies. A full audit of exactly what equipment an event will need is a step any good event prof will recommend is taken to avoid disaster. Knowing the lighting, audio and technical requirements of a venue or show will let you plan far in advance just what kind of storage capacity and space you are going to need to avoid any slip up in production. And with this, get your orders in for any extra cases you'll require.
3) Mechanics
Mechanics that travel for the work mostly know exactly what they'll need to be armed with. For the most part this will be tools and parts. The question of transporting these materials safely though is another matter entirely, with standard road protection often not doing enough to prevent delicate tools from being thrown out of calibration, or parts from being contaminated or damaged. Be sure to investigate how you are transporting your equipment before any journey, to avoid wasting valuable time and money re-calibrating, re-stocking or even replacing them when you arrive. Think personalised inserts, heavy duty cases and material presentation systems.
4) AV Engineers
One of the distinguishing features of the AV industry is that it never stops reinventing itself. What could be considered one weeks' cutting edge is outdated by Sunday. That's why when travelling for work within the AV field, versatility in your protective luggage can save you literally thousands of pounds – not just through the protection of your kit, but by saving you the trouble of purchasing new flight case / protective equipment every few months. Consider large road trunks with replaceable foam inserts as a viable long term solution to the ever changing face of AV technology, and cases that are tailor designed to branded kit.
For more information on how to protect your equipment from seasoned professionals, please call +44 (0) 1827 60009, or email sales@proflightcase.com to learn more about our bespoke and innovative solutions.