New DJ Controller Flight cases from FCW
Just arrived DJ Controller Flight Cases from KamKase
Numark, Denon, Pioneer, Traktor.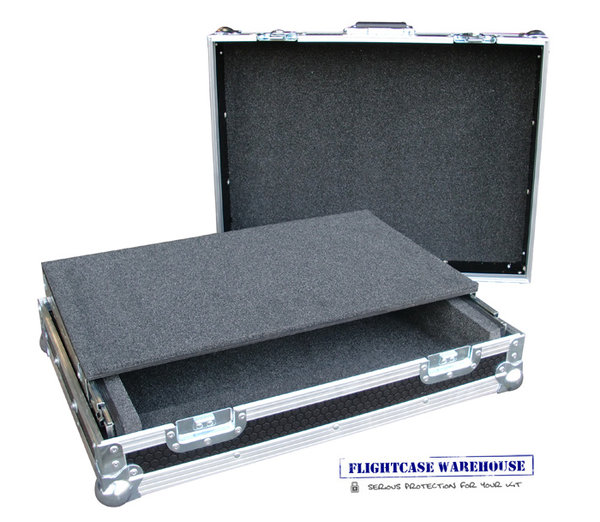 Kamkase are a leading manufacturer of Flight Cases for all applications. All Kam Flight cases are designed in the UK and built using the best available materials. If you choose a KamKase you can be assured your equipment will get the protection it deserves.
Our sales team is always on hand to discuss your requirements if this Kam Flight case does not suit your needs.
7mm Smooth black laminate board
Removable Lid
Full touring spec fittings
Sliding laptop shelf fitted
Foam lined
Gap at rear
Front panel for access to controls and headphone sockets
View Cases Here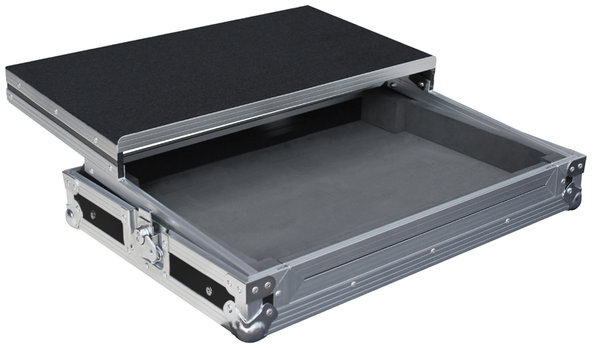 Nex Day Delivery
A career many of us dream of having, but not one so easily achieved. Once you've reached professional level as a sound engineer, whether in live or studio environments, you take on a job that although unquestionably rewarding, has its own unique set of challenges. At Flightcase Warehouse we work closely with sound engineers and below are just 3 of the situations we hear time and time again! Work in the industry and have anything to add? Let us know! (P.s, this article was actually written by a musician!)

1. (Some) musicians live to make life harder than it has to be
Live engineers suffer this pain too, but it's mainly reserved for the talent in the studio. Mainly stemming from the fact that pretty much anybody can rent themselves a few hours in a recording studio (as well as your time, if they appreciate an expert input), many sound engineers have swapped cringe-worthy stories of the misguided, misinformed musician that can walk into the recording booth.
Sound engineers have inevitably heard the following: 'Don't worry, I tuned last night before I got here', 'these strings were fresh on last week, they're ready to go!' Or the inevitable 'I'm almost ready, just let me warm up first'. More often than not, these tiny niggles can be dealt with in either a few minutes but it's not the severity of the infraction; it's the number of them.
We've also heard that that when a musician isn't finding fault with their own performance, they're finding fault with your mix. Many first-timers in the studio (or even the more seasoned musician) have never heard a genuinely professional mix and are thus questioning your every technical, informed move. When engineers have sank hours of hard work into equalising a mix and then you are asked to use more plugins, or scoop the mids, or even change their recording through effects, it's hard not to scream.

2. Unexpected live performance hiccups

Those engineers that make their way out on the road will get this more than most. This side of sound engineering is perhaps the most unpredictable and varied concerning the problems that occur, and professionals will attest to the fact that shows have a way of throwing up problems that manifest at the worst possible moment.
For example, how many front of house engineers will be happy with their levels and ready to make sure the show goes off without a hitch, only to have to quickly readjust everything thanks to heavy rain, unexpectedly high levels of noise from the crowd, or even equipment choosing that very moment to pack in and break?
Whilst these are things you accept as part of the job, it can be harder to grin and bear it when that occasional random audience member fancies a go at critiquing your setup. Whether they decide to stand next to your desk all night offering advice, requesting you make changes to the mix or suggesting what they'd do, it's just something that every sound engineer has to deal with from time to time!

3. A sharp learning curve when you're starting out
Starting out in sound engineering can come with a tough initiation, which will pay off with massive benefits as you make your way in the professional industry. If you're new to the game or thinking about pursuing sound engineering as a career, it might help you to know that we've been told that every pro who has sat behind a desk is guaranteed to have made a few mistakes during their career.
A common self-inflicted hiccup we've heard about many times is to do with the adjustment and fine-tuning of an audio channel. Sometimes trainee engineers will work on a channel or hours on end with repeated playbacks and tweaks, only to find that the channel was in fact bypassed (good news though – your ears did not deceive you!) Then there are the countless unplugged wires, software issues and unrepeatable mistakes that led to an even better sounding mix that all beginners will experience on the path to professionalism.

Get more from your kit with Flightcase Warehouse
If you're a sound engineering professional, we know that your valued kit is your lifeblood and absolutely essential to the success of whatever event or project you're working on. Working closely with those in the industry for over two decades, Flightcase Warehouse understands exactly what is required to keep you kit safe in transit, storage and even use. Whether you need protective, clever storage, a heavy-duty transportation solution or even something special that only you can imagine, Flightcase Warehouse can create and supply to your exact spec. Visit our website to view our wide off the shelf range of flight cases, or email us to talk over our totally bespoke Pro Flightcase service.
AV surrounds us more and more in our daily lives, but have you ever put serious thought into how you could use it to help your business grow? Flightcase Warehouse works with scores of AV professionals and knows first-hand the wonders that these experts can create at pretty much any live event you can imagine. Let's not just leave it at that, though. Company execs and marketing teams listen up – here's how business-centric audio visual tech can power up your enterprise and make you money!
Got a bricks and mortar store? Pair innovative POS and AV touch screen technology to boost customer engagement whilst keeping intrusiveness to a bare minimum. By incorporating information within an interactive touch screen display (be it tablet, video screen or interactive wall), studies have shown that customers feel much more at ease when browsing and more connected with your brand. What does this mean for sales? Well, customers are more likely to request further information or buy due to info being readily available and not having a pressurised sales pitch by staff.
The interactive experience doesn't stop there. Virtual reality has become increasingly popular with the general public, and the opportunities it presents to potential customers are astounding. For example, web camera technology combined with virtual reality software can create anything from virtual changing rooms, immersive destination exploration, live action play of gaming or test driving a car. Ideal for both in store or in the sales showroom. Talk to your web developer about integrating with your website for even better e-commerce conversion rates.
Moving away from in-store focussed tech applications – trade shows and exhibitions present a prime place for AV to shine. If you're looking to increase footfall to your stand, you pretty much can't beat show-stopping, cutting edge interactive tech to draw in the numbers. Something even as simple as a LED display or a rolling soundtrack can turn heads if used correctly; but experiences such as ever popular VR headsets can go a long way in helping you make the most from your exhibition investment.
Got some AV kit yourself or want to ensure that your upcoming venture is kept safe and secure, performing to its very best for the longest time possible? Talk to Flightcase Warehouse about protective solutions and also any advice we have for AV profs.Visit our website, contact us via email, or call us on 01827 6009.
Have you ever looked at your kit and thought that it needs – or deserves! – something more from its protection? A solution that's custom designed and personalised to fit your exact spec of gear, perhaps?

Flightcase Warehouse understands that the complexity of conceptualising, sourcing and manufacturing protective cases that are bespoke (down to the very last bolt!) can be an overwhelming task. Taking the decision to entrust a manufacturer with the invaluable tools of trade can also be daunting, even if you know an investment in custom kit will be well worth it for years to come.

So, how do you even start when going about commissioning a custom flight case? You've probably heard about Pro Flightcase – the bespoke service exclusively from Flightcase Warehouse. Our skilled team pairs expert, hands-on craftsmanship with the very latest in production technology to deliver the highest quality, most creative and best fit flight cases money can buy. Whether you're in live entertainment, touring, AV, lighting and sound, sports, hospitality, motorsport or manufacturing (the list goes on, just talk to us for more), Pro Flightcase can help.

You've realised that your equipment warrants a unique protective and transportation solution and are ready to take action. Here's how you get started turning that idea into a reality.

1. Brief

Begin by emailing or calling our Pro Flightcase team what you need; it's that simple. Whether it's only a larger road trunk, or an all in one high tech storage solution, we will be in touch to chat through an overview of the project, capturing all the technical details. Once checked and signed off by you, we get to work in our 50,000 sq ft workshop with your spec in hand.

2. Measure

If you're happy with our terms for a project then you must measure your equipment precisely. If you're not sure how – don't worry, we have a measuring service available because accuracy is key.

3. CAD

This is the point where you get to step back from the project, as our engineers use specialist CAD software to design the ideal solution to your protective problem in a digital environment (in addition to putting expert pen to paper if needed!). We use the latest technology coupled with our own bespoke CAD software to ensure that your project receives the perfect outcome. Once finished, the design is back to you for sign off.

4. Cut

Now we start to build! Once you have signed off on the design we begin manufacturing, utilising Pro Flightcase precision production methods (such as a multi head CNC), as well as being armed with our ever-innovative selection of tools to ensure that when we assemble, your product is of unbeatable quality.

5. Assemble

Our warehouse accommodates multiple production lines, including cutting, foam, spray booth and finishing departments, guaranteeing that your Pro Flightcase project is completed entirely in house. We don't outsource, and your order is only handled by a team that you can trust.

6. Dispatch

Once finished, we test your product extensively – rigorous quality control is the only way to ensure that your solution is perfect – and then it's shipped. (We deliver anywhere in the world, with incredibly quick lead times). A Pro Flightcase Project can be complete in just 2 weeks from quotation.

The service is virtually limitless, as is our creativity. The Pro Flightcase team has worked with giants such as BAE Systems, Rolls Royce, Microsoft, Pirelli, Mercedes, BskyB, Samsung and MTV to name a few, in addition to literally thousands of industry brands.

And this is where our Pro Flightcase team really excels, lasting protective solutions that you may not have thought possible before talking to our engineers. If you would like to find out more from Pro Flightcase, please don't hesitate to email or call us (+44 (0)1827 60009) to find out what we can offer you in the way of total protection.