New DJ Controller Flight cases from FCW
Just arrived DJ Controller Flight Cases from KamKase
Numark, Denon, Pioneer, Traktor.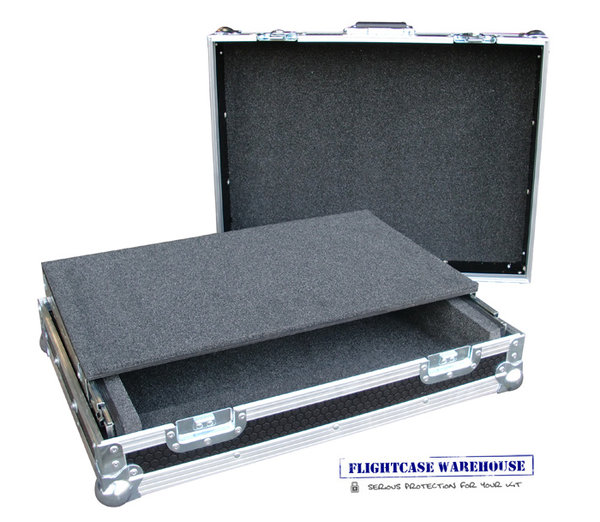 Kamkase are a leading manufacturer of Flight Cases for all applications. All Kam Flight cases are designed in the UK and built using the best available materials. If you choose a KamKase you can be assured your equipment will get the protection it deserves.
Our sales team is always on hand to discuss your requirements if this Kam Flight case does not suit your needs.
7mm Smooth black laminate board
Removable Lid
Full touring spec fittings
Sliding laptop shelf fitted
Foam lined
Gap at rear
Front panel for access to controls and headphone sockets
View Cases Here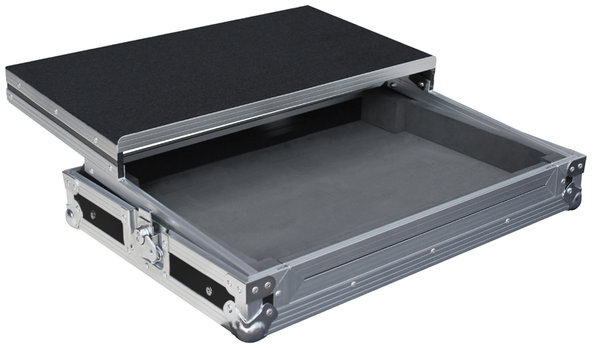 Nex Day Delivery
Pretty much all of our customers rely on their equipment's effectiveness – depending on it every day in order to support a livelihood, grow a business and deliver brilliant results. You need your kit to last and know that it won't let you down even when it's been in constant use for several months, or even years. This week we're looking at the ways in how you can push your equipment that little bit further, get the absolute maximum from your investment and reduce concerns about its safety.

Regularly Test Your Equipment:
This step may seem obvious, but make sure that you're testing and checking your equipment between jobs and events. Paying close attention to any technical irregularities, minor breakages and general wear and tear – making sure you leave enough time to resolve any issues you unearth before your kit is next required in action – will save you a lot of time, effort and money in the future. Being able to anticipate failures in advance means that you won't suffer from the associated costs of undiagnosed problems. No panic-buying replacements or needing to fork out for a massive repair!

Protect Your Kit:
Don't compromise when it comes to protecting your equipment. Whether it requires a flight case, bag or specialised container, your kit will undoubtedly remain in a better condition for a longer period of time if you provide it with heavy-duty protection. Protecting your kit from the elements and external pressures during storage, transport and even use means that you can really maximise your investment through avoiding damage. For even better value, why not consider a tailor-made flight case that's built to your exact spec? Greater precision means better results.

Shop Around:
Before investing in new equipment – whether it's technology, an instrument or hardware – do your homework. Make sure that you have a comprehensive understanding of both its benefits and shortcomings, and that it still be as useful and relevant in six months' time. In a lot of instances, the main complaint about why gear needs to be replaced is that it's outdated, and with today's rapid tech developments, shelf lives are becoming ever shorter. Avoid disappointment and costly upgrades by putting the extra work in at the start (and maybe visit a trade show or two to experience the very latest innovations!).

Audit Your Equipment and Needs:
Not just the actual equipment, but your flight cases and protective solutions too! As your kit changes and upgrades, your flight case requirements and specifications will also alter, meaning that you could be left with insufficient protection. Regularly auditing your flight cases means that you can plan for essential investments in advance, manage your business' cash flow and minimise painful last-minute costs. We offer on-site stock audits within just a 3 day notice period, meaning that we can help you order exactly what you need for your budget.

Alongside the complete protection Flightcase Warehouse offers, we want to assist our customers in maximising their other investments and streamlining their operations. To find out how we can work with you to achieve better results, call 01827 60009 or email sales@flightcasewarehouse.co.uk. We're always happy to hear your ideas.

Photography is a year-round profession and hobby, with many going to great lengths to get a shot that perfectly captures a provocative moment. We work closely with photography professionals (check out the innovative magic mirror flight case we made to order for Bright Photography here) and as a result, have seen some stunning images and concepts released. Inspired by the colours, weather and landscapes of the upcoming season, we've put together a quick bank of wintery photography ideas that always deliver awesome results.

Falling Snow:

Weather dependent, this classic seasonal shot can be fairly straightforward to capture. Falling snow offers a magical, idyllic and altogether unusual view of familiar environments (a dawn view of that field you drive past every day, your street aglow with streetlamps in the evening or even your kids playing outside).

Many photographers opt to snap snowy landscapes at night, as the contrast between the light snow, dark skies and (if needed/available) other lighting creates an incredibly dynamic and often peaceful view of the world. Transform even the busiest of city spaces into a peaceful winter postcard with good timing, the right angle – and by being lucky with snowfall!

Long Exposure:

Some people might not be too excited about the notion of shorter daylight hours, but the darker skies present a fantastic opportunity to collate some stunning long exposure images. You can immortalise the stars with a super-long exposure night time shot or capture your city alive with fluorescent lights in motion. Either way, long nights and inky skies make drastic snaps with magnificent colour contrasts. Despite not having huge circumstantial requirements, make sure to plan your shots to ensure you capture those winter landscapes.

Festive Scenes:

As we approach Christmas, villages, towns, cities and urban centres deck themselves out to the max with rich seasonal colours and sparkling lights. Make the most of the colour scheme that comes just once a year with co-ordinated shots of European markets, outdoor events, carolling crowds and seasonal nature (berries, holly, robins – you name it!) Think about how to integrate festive decorations into your winter photography – from the quaint to the spectacular – and create a themed portfolio packed with scenic shots.

Flightcase Warehouse offers a wide range of flight cases for photographers, including utility cases, lens cases, waterproof cases, magic mirror cases and much more. We can also custom build to your specification. Just email sales@flightcasewarehouse.co.uk or call 01827 60009 to get a quote."


In the last week Flightcase Warehouse has announced that we're an official sponsor of the mondo*dr awards, the flagship event that recognises and celebrates the very best creations by pros in the technology in entertainment industry. We're thrilled to be sponsoring the Best Theatre category and will present the winner at a spectacular ceremony at Prolight+Sound Frankfurt in April 2018 (during Musikmesse).
The awards have been organised by the team behind the international mondo*dr publication, a leading magazine that showcases and explores technology in entertainment, the latest cutting-edge uses and examples that merit praise for innovative technological integration. We're proud to have featured in the latest mondo*dr issue with our Chauvet charging flight case!
Are you a worthy entrant, or do you know a fellow professional technology in entertainment brand deserving of a nomination? Enter now and spread the word in your industry network to help us recognise the best in the business. You can enter: Best Nightclub, Best Bar & Restaurant, Best Theatre, Best Concert Hall, Best House of Worship, Best Sporting Venue and Best Integrated Resort. From manufacturers and distributors to venue operators - anyone can submit an entry if you work within the realms of fixed installations in the entertainment world.
Reading outside of the UK? Don't worry, you can still enter your projects! The mondo*dr awards have thought of it all and have ensured entries are open to technology in entertainment professionals in the European continent, the Americans and the MEA with dedicated awards for these areas of the world. Regional winners will then compete for an overall territory winner, and finally a worldwide winner. Set to the backdrop of Musikmesse - of one of the industry's most energetic, innovative and highly-regarded events – means that the awards promise to deliver a night to remember for nominees, audience members and sponsors such as ourselves.
If you'd like to check out previous winners and get a feel for their project entries, you can view details on the mondo* dr awards website www.mondoawards.com. With technology (especially in entertainment) being a constantly evolving entity, we cannot wait to see how the finalists have redefined technological involvement in entertainment this year. Good luck with your entries and we hope you join us there!