New DJ Controller Flight cases from FCW
Just arrived DJ Controller Flight Cases from KamKase
Numark, Denon, Pioneer, Traktor.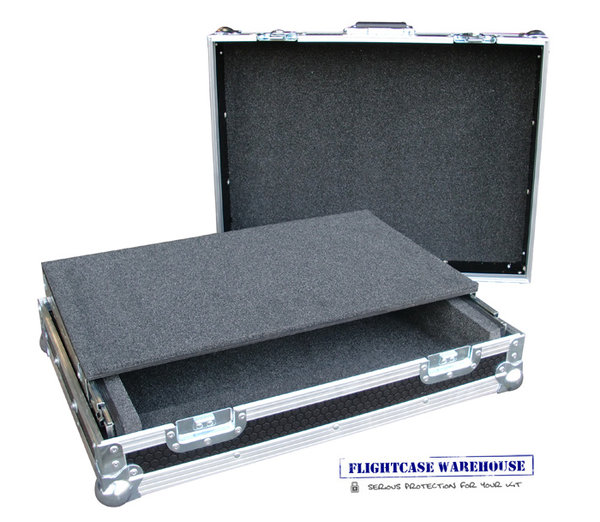 Kamkase are a leading manufacturer of Flight Cases for all applications. All Kam Flight cases are designed in the UK and built using the best available materials. If you choose a KamKase you can be assured your equipment will get the protection it deserves.
Our sales team is always on hand to discuss your requirements if this Kam Flight case does not suit your needs.
7mm Smooth black laminate board
Removable Lid
Full touring spec fittings
Sliding laptop shelf fitted
Foam lined
Gap at rear
Front panel for access to controls and headphone sockets
View Cases Here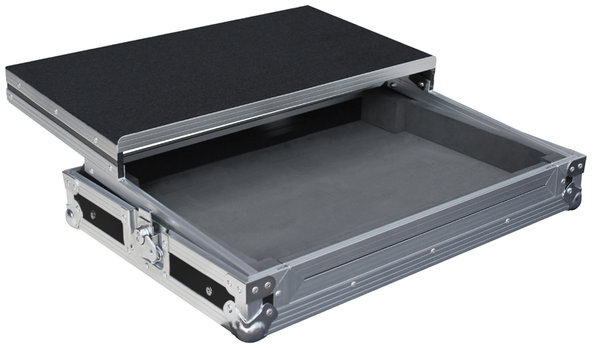 Nex Day Delivery
Flightcase Warehouse has recently worked on a number of real head-turning projects for some inspiring customers – and we wanted to share a few of our favourites from the last month with you! All 3 of the below projects were proudly designed and manufactured at our Staffordshire workshop following a close consultation from the client. Check out our Intsagram here for the latest projects live as they're signed off!

Rally Car Protection for Viking Motorsport
How often do you see a flight case for a car? It's all part of the day job here at Flightcase Warehouse! One of our more recent projects saw us build a vehicle-sized protective case to transport a rally car for motorsport brand Motorsport. Our team built a reinforced steel base to ensure a secure environment for such high-value cargo paired with specially designed locking systems. We're really proud of this one – a truly unique project that will travel with the Viking Motorsport team throughout their tour of the USA this summer! Best of look in your competitions, Viking.

Presentation and Personalised Storage for Converse
It's not just UK clients that we work with – Flightcase Warehouse recently undertook a project with the Netherlands Head Office and Factory Store branch of global lifestyle brand, Converse. Our totally bespoke road trunk-style flight cases were fully branded with stylish black engraved Converse logos and featured custom-made, elevated inserts for enhanced display capabilities, storage and protection. The trunk cases serve a dual purpose of industrial-style display units and clever protective solution for storage and transit. An eye-catching visual statement perfect for the Converse brand.

Transport and Storage for Stevie Wonder Tribute Band
Another recent and exciting bespoke project saw Flightcase Warehouse constructing a case that could safely transport the entire lit backdrop for a Stevie Wonder tribute band. The case features a unique interior racking system that securely lodges the individual letters in place as they are stored or transported to different gigs across the country. See our Instagram for some brilliant pictures featuring the "STEVIE" illuminated letters, right there in our workshop.
We're constantly working on bespoke projects and can't wait to reveal what's coming next. Until then, if you're looking for a creative protective solution for your kit look no further than Flightcase Warehouse. No job is too big or too small, and we ship to literally anywhere in the world. Visit our website, send us an email or call us on 0800 6121 7097 for more.
Right now it's peak season to be a motorsport fan. A whole host of races and shows are being staged, taking advantage of the summer climate, and the Formula 1 Grand Prix is in full swing. A packed calendar is certain to be inspiring the next generation of star drivers (and many more will be dreaming of what could have been). With this in mind, this week we're looking at what it actually takes to become a F1 driver and if you're up for it, how you can get involved with the action!
So. What's step 1? The short answer is; 'Be Young'. We're sorry to potentially throw a spanner in the works so early on, but the vast majority of current F1 drivers got their start in go-karting championships and leagues when they were very young. Within the UK, kids as young as four can begin their career on the track with fellow young karters.
Karting isn't just available to kids though – all ages can get involved, with different strengths of engines, sizes and track variations becoming available as the years pass. There are all kinds of associations, clubs and guides available to help any who want to get involved with karting. Don't be shy about contacting your local body if you, your child or a young person you know are interested!
If you feel too old, or have moved to the top of the karting world though, it's time to step up what is called the 'Racing Ladder'. It works exactly as you may suspect, with each level of the ladder involving more powerful engines, longer and more complex circuits, and a better calibre of racer.
For youngsters around the age of 15 it can be (relatively) straightforward to enter the new Formula 4 league. One of the precursors to Formula 1, Formula 4 (as you may expect) makes use of smaller engines (namely the 1.6L ford ecoboost engine), and has been proven as an effective launching pad to many racers, hailed as a brilliant stepping stone between carting and Formula 3.
There are other pools young drivers can enter to make a name for themselves (the GP series a worthy contender), but Formula 3 is the next big step towards the drivers seat on a Formula 1 grid. With less technical restrictions than Formula 4, Formula 3 cars are a lot more powerful, scaling up alongside the age of the drivers – with more teams and an international presence to boot.
Stepping up again means entry to the more exclusive Formula 2. With V8 engines, the cars are a cut above the likes of any below them on the racing ladder, and it is from these ranks that most of the famed and admired Formula 1 drivers are selected. Each step on this ladder offers its own thrills, with opportunities for younger drivers (or even budding support engineers) offered to those who can gain entry to them.
The unfortunate fact is that if you're reading this article, the chances are you're that bit too old to begin a full-blown F1 career. That's not to say all hope is lost however. There are always support roles to be filled if you want to work more closely with the cars – but what options are there for those who want to race?
You could always look into an experience day, getting taught how to drive a professional level racing car, or even participate in a track day with your own vehicle. Alternatively, you could look into local racing leagues and clubs, with many options available for budget, or hobbyist racing. Satisfy your craving to race by supporting your local tracks, clubs and meet ups, and who knows where you could find yourself if your racing skills put you ahead of the competition.
If you do decide to take part in some racing for yourself, and are worried about tool control and precise maintenance, Flightcase Warehouse can help you out. With an incredible selection of products aimed at the motorsport industries, our protective solutions have been used by some of the biggest brands in the sector to keep gear completely safe and uncontaminated. Visit our website to view our motorsport flight case selection, or for a bespoke solution call + 44 01827 60009, or email us directly.
A career many of us dream of having, but not one so easily achieved. Once you've reached professional level as a sound engineer, whether in live or studio environments, you take on a job that although unquestionably rewarding, has its own unique set of challenges. At Flightcase Warehouse we work closely with sound engineers and below are just 3 of the situations we hear time and time again! Work in the industry and have anything to add? Let us know! (P.s, this article was actually written by a musician!)

1. (Some) musicians live to make life harder than it has to be
Live engineers suffer this pain too, but it's mainly reserved for the talent in the studio. Mainly stemming from the fact that pretty much anybody can rent themselves a few hours in a recording studio (as well as your time, if they appreciate an expert input), many sound engineers have swapped cringe-worthy stories of the misguided, misinformed musician that can walk into the recording booth.
Sound engineers have inevitably heard the following: 'Don't worry, I tuned last night before I got here', 'these strings were fresh on last week, they're ready to go!' Or the inevitable 'I'm almost ready, just let me warm up first'. More often than not, these tiny niggles can be dealt with in either a few minutes but it's not the severity of the infraction; it's the number of them.
We've also heard that that when a musician isn't finding fault with their own performance, they're finding fault with your mix. Many first-timers in the studio (or even the more seasoned musician) have never heard a genuinely professional mix and are thus questioning your every technical, informed move. When engineers have sank hours of hard work into equalising a mix and then you are asked to use more plugins, or scoop the mids, or even change their recording through effects, it's hard not to scream.

2. Unexpected live performance hiccups

Those engineers that make their way out on the road will get this more than most. This side of sound engineering is perhaps the most unpredictable and varied concerning the problems that occur, and professionals will attest to the fact that shows have a way of throwing up problems that manifest at the worst possible moment.
For example, how many front of house engineers will be happy with their levels and ready to make sure the show goes off without a hitch, only to have to quickly readjust everything thanks to heavy rain, unexpectedly high levels of noise from the crowd, or even equipment choosing that very moment to pack in and break?
Whilst these are things you accept as part of the job, it can be harder to grin and bear it when that occasional random audience member fancies a go at critiquing your setup. Whether they decide to stand next to your desk all night offering advice, requesting you make changes to the mix or suggesting what they'd do, it's just something that every sound engineer has to deal with from time to time!

3. A sharp learning curve when you're starting out
Starting out in sound engineering can come with a tough initiation, which will pay off with massive benefits as you make your way in the professional industry. If you're new to the game or thinking about pursuing sound engineering as a career, it might help you to know that we've been told that every pro who has sat behind a desk is guaranteed to have made a few mistakes during their career.
A common self-inflicted hiccup we've heard about many times is to do with the adjustment and fine-tuning of an audio channel. Sometimes trainee engineers will work on a channel or hours on end with repeated playbacks and tweaks, only to find that the channel was in fact bypassed (good news though – your ears did not deceive you!) Then there are the countless unplugged wires, software issues and unrepeatable mistakes that led to an even better sounding mix that all beginners will experience on the path to professionalism.

Get more from your kit with Flightcase Warehouse
If you're a sound engineering professional, we know that your valued kit is your lifeblood and absolutely essential to the success of whatever event or project you're working on. Working closely with those in the industry for over two decades, Flightcase Warehouse understands exactly what is required to keep you kit safe in transit, storage and even use. Whether you need protective, clever storage, a heavy-duty transportation solution or even something special that only you can imagine, Flightcase Warehouse can create and supply to your exact spec. Visit our website to view our wide off the shelf range of flight cases, or email us to talk over our totally bespoke Pro Flightcase service.