New Spider Production Cases - In Stock NOW!
Exclusive to The Flightcase Warehouse the new Spider production flightcases are in stock now and available on a next working day service.
Manufactured in a 9mm hexa board finish, the cases come with all the usual high quality fittings and accessories, ensuring that your kit is guaranteed 100% protection.
2 Exciting New Models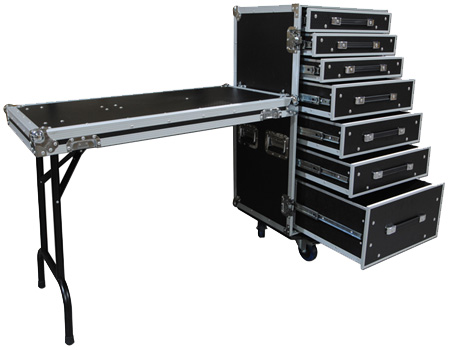 Technical Details:
Material: 9mm Hexa board finish
Type: Removable front
Int Dims: w497mm x d400mm x h945mm
Ext Dims: w520mm x d525mm x h967mm
Heavy duty recessed fittings
Table stands at 728mm
4" Castors fitted
Drawer 1, 2 and 3 90mm high
Drawer 4, 5 and 6 135mm high
Drawer 7 270mm high

Technical Details:
Material: 9mm Hexa board finish
Type: Removable bases
Int Dims: w982mm x d500mm x h622mm
Ext Dims: w1000mm x d600mm x h640mm
Heavy duty recessed fittings
4" Castors fitted
8 Drawers fitted
155.5mm High