Bespoke Flight Cases
Can't find the right case for you? Perhaps you want something a little extra special? How about a bespoke flight case just for you!?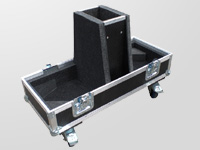 The Flightcase Warehouse is able to provide 100% bespoke flight cases for almost anything. This extends from any musical instrument cases to cover all sorts of equipment that need protection, including computer cases, fridge cases, lighting cases, camera cases, gun cases, and much more!
We have experience in designing and manufacturing flight cases to suit all needs. All of our bespoke flight cases are built to offer the most comprehensive protection solution possible, ensuring that no damage comes to your gear, no matter what.
Order your Bespoke Flight Case
Our facilities are equipped to produce bespoke flight cases in any numbers. From a one off, single case crafted specifically for you, or a mass production of cases – Flightcase Warehouse can offer it all. No job is too small, so if you're looking to get the perfect bespoke flight case for your gear, get a custom flightcase quote today!

The Bespoke Flight Case Gallery
We've included some examples of our bespoke flight cases below. We've built hundreds of different cases to suit an extensive range of protection needs. So, go on – check out some of our favourites below!