Recycle your old Flight Cases and make money!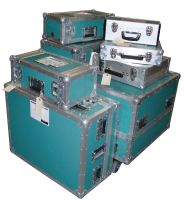 Many old flight cases are left abandoned or are disposed of through typical waste disposal methods, which is neither environmentally friendly nor economical! That's set to change though, as Flightcase Warehouse are launching their brand new buy back flight cases scheme! We aim to not only provide you with money for an otherwise worthless case, but to also help the environment by recycling the case and reusing the components!
"Surplus Flightcases can and should be reused and therefore they have a financial recovery value"
says MD of Flightcase Warehouse, Steve Austin.

"Rather than just leaving them in a corner of the warehouse or trying to dispose of them via waste disposal, we offer a simple buy-back service for businesses that ensures environmental compliance and generates revenue."
This is a win-win scenario and enables your business to develop an eco friendly method of recycling old flightcases while also generating that all important resource; money!

Buy Back Flight Case Scheme
Once we know the quantity and type we can evaluate and determine a price for old cases to be recycled, categorized in our buy back system from A to D. A meaning the flight case is in very good condition and can be put into our used cases section, while D being salvage, with components being used for spares and repairs - ensuring that old cases are put to use in an environmentally friendly manner.
Flightcase Warehouse is totally committed to ensuring old cases are recycled as much as possible to help our environment, which is why we are currently in talks with several waste management companies to find greener ways of disposing of flight case panels. One suggestion is turning panels into fuel pellets for resale.
Additionally, to make the process as painless as possible for you, we can arrange collection of your cases to be recycled throughout the UK and Europe and all cases will be stored and sorted at our Tamworth storage facility.

Start turning those old cases into money with the flightcase buy back scheme today!!!
Now that you know the details, all that's left to do is contact us to arrange for your old cases to be recycled!
Why not take a look at...