Blog
Flightcase Warehouse are once again exhibiting at this years all new look BPM and PRO show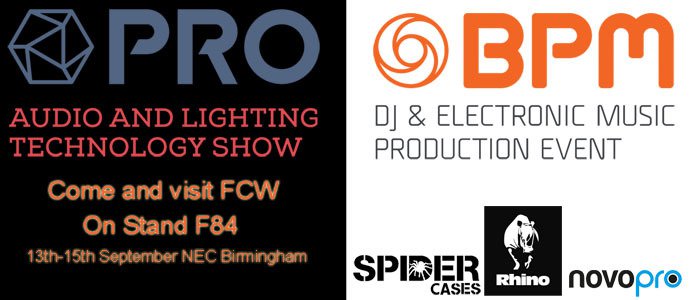 We will be showing of a large range of custom built flight cases to suit both events
Please come visit us at stand F84 and Jason and Sam will be happy to help with any inquires
Flightcase Warehouse is pleased to announce that we'll be in attendance as an exhibitor at this years' BMP PRO show.
2016 marks the much anticipated 10th anniversary of the flagship trade show, and features the largest collection of exhibitors from the Lighting, Sound, DJ and Studio industries BPM PRO has ever had.
This year the event will take over the Genting Arena at the NEC in Birmingham from the 11th – 13th September. You can find the Flightcase Warehouse team (complete with new products and our Serious Furniture seating) at stand AE11. Just click here for a full map of the arena.
The BPM PRO Flightcase Warehouse stand will be the place to be at this year's event, with the first public showing of our new brand and exclusive products. Get yourself to our stand to witness the unveiling of our brand new bespoke Pro Flightcase brand for its first ever public appearance, following its launch to the market just last week.
Our product firsts will come in the form of two never before seen specialist Lighting & Sound flightcases, whilst the team will also display a selection of cases from our off the shelf lines, which include Spider and Rhino products. If you see something you like, we're offering delegate-only pre orders too! Simply speak to a member of staff for more details.
Both our MD, Sam Austin, and Sales Director, Jase Furneaux will be attending the event and will be available for consultation on booking. We know how busy these shows get – we're regulars ourselves – so to guarantee a time that's convenient to you, please just click here or call 01827 60009 to arrange your meeting with us.
All delegates that either make a pre-booked meeting or pay us a visit on the day will get to try out our Serious Furniture line (the unique seating in our consultation area, loved by green room regulars and celebs) as well as a sample from our flightcase bar! We'd love to see you there, so book your slot before places are taken.
Don't forget to follow us on Twitter and Facebook for the latest Flightcase Warehouse news and updates in the run up to the event.

BPM PRO 2016 opens this weekend, Sunday 11th – Tuesday 13th September – and we can't wait! Flightcase Warehouse will hit the show floor alongside the largest number of exhibitors that BPM PRO has ever seen. We're hoping that we'll get the first looks of some of the most exciting and innovative products and services coming to the Lighting & Sound market in the near future.
Last week we gave you a rundown of some of the standout brands in L&S that we'll be sharing the NEC with this weekend. Here's a few others to do your homework on.

Mackie – mackie.com - Stand PM14
Mackie is a global leader in professional audio products, with a renowned selection which ranges from loudspeakers and mixing consoles to studio and recording equipment. Founded in 1989, Mackie's mission is to provide high quality, affordable recording and live sound gear. Their innovative approach has helped them achieve many industry firsts in the market, so we're betting that their stand will be one to impress.

Grumpy Joes – grumpyjoe.co.uk - Stand LB08
Grumpy Joes is a UK manufacturer of next level party pieces. They produce dance floors, bars and event furniture and are pioneering in their approach. The company is the inventor of the Colour Commander dance floor – a wireless, RGB pixel portable dance floor system which can be controlled by any WiFi enabled device. I wonder if they'll have on for the Flightcase Warehouse team to test out?

FBT Audio – ftbaudio.co.uk - Stand AJ06
FBT have been designing and manufacturing top of the range, highly professional audio products since 1963. Their aim is to deliver products that improve sound quality, making in clean, harmonic and melodies, thus enabling music lovers to enjoy their favourite tunes with outstanding clarity. FBT started life as a simple artisan workshop but is now an industry leader at both national and international level. We're looking forward to seeing what they're offering up for 20-17.

This year's BPM PRO Show marks the event's 10th anniversary, so it's set to be a celebration to remember. We'd love to see you there. Please feel free to drop by to meet us and check out our products at Stand AE11.

It's the first public showcase of our recently launched Pro Flightcase brand too – our exclusive offering for bespoke made custom cases. We're also launching two never before seen products and will be decked out with a flightcase bar and our hallmark Serious Furniture.

Proflightcase.com
Flightcasewarehouse.co.uk