Blog
Litestructures' new LiteConsole DJ booth is strong, portable and easy to put together. It is the ultimate DJ tour solution.

Litestructures, a UK-based company, have been supplying custom made staging units to acts all over the world for many years and have now devised a rather nifty flat pack solution for the DJ arena in the shape of the LiteConsole. And when I say flat pack, it doesn't mean cheap MDF crap or stuff that can be found at MFI or other types of DIY stores. This is the all singing, all dancing behemoth of portable, quick install DJ booths.

LiteConsoles are available in a much more practical, modular format that makes them easy to assemble and install. Many of you may have seen pictures of a certain Paul Oakenfold spinning behind his custom LiteConsole rig on the recent Madonna tour, but it doesn't stop there. Litestructures have supplied custom staging and rigs for the likes of Scissor Sisters, Basement Jaxx, Prodigy, Massive Attack, Faithless and have even recently supplied Lady Gaga with her very own unique stage set up for her Monster Ball Tour. Now clubs and DJs from all walks of life can get in on the act with the new LiteConsole DJ booth.

The completed console looks like quite a complex piece to set-up but that would be an over exaggeration as with two people this unit can be put together in about five to ten minutes. And, if you're putting it up on your own, it still won't prove too demanding. The beauty of the system is that it is designed to be simple and quick to set up, and that it certainly is.
Like a mini scaffolding rig made from aluminium, whilst sturdy, the parts that combine to make it up are quite light — another bonus for the travelling or mobile DJ — so no back strain lugging this thing around.

Lighting can be rigged up to the console, and in fact, whatever the DJ or club want to add to the console can be done with the minimum of fuss.

Whilst it can be packed up into a rather small space, once assembled, it is tough as old boots, and can even take the weight of a DJ jumping up and down on it, as proven at a recent Eddie Halliwell gig in Los Angeles.
View Tech Spec and Price here
Posted by:
Steve
on
February 14th, 2011 @ 09:02 AM
Flightcase Warehouse are very please to anounce that they are now a distributor for Prolyte Trussing & Staging.
We are taking orders for all Prolyte products including Litestructure products.
Our new website is currenly under construction and will be online soon where you can view and purchase all Prolyte products.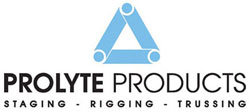 For further information please contact Steve or Sam Austin or email
sales@stageandtrussingwarehouse.co.uk
Posted by:
Steve
on
February 4th, 2011 @ 10:47 AM
FlightCase Warehouse are now manufacturing Flight Cases to suit your 3D TV. From 32" to 65" and we can custom build to any size.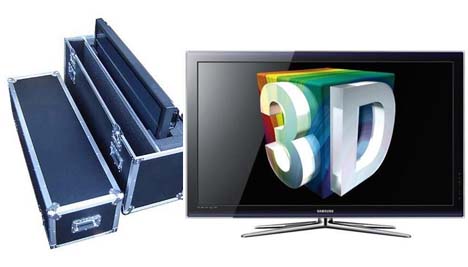 The Flightcase Warehouse custom 3D plasma/lcd case is a custom built flight case designed to protect your plasma/lcd whilst on the road. This flight case is designed in house by our design team and manufactured using Penn Hardware with ultra strong hexaboard panels.
Our sales team is always on hand to discuss your requirements if this flight case spec does not meet your needs.
Posted by:
Steve
on
February 4th, 2011 @ 09:09 AM