New DJ Controller Flight cases from FCW
Just arrived DJ Controller Flight Cases from KamKase
Numark, Denon, Pioneer, Traktor.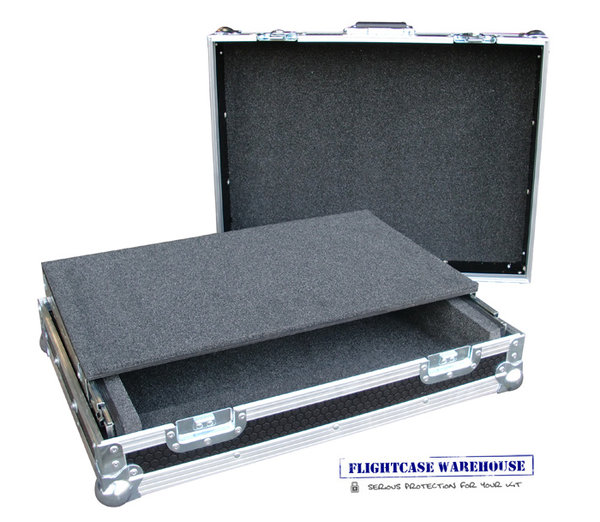 Kamkase are a leading manufacturer of Flight Cases for all applications. All Kam Flight cases are designed in the UK and built using the best available materials. If you choose a KamKase you can be assured your equipment will get the protection it deserves.
Our sales team is always on hand to discuss your requirements if this Kam Flight case does not suit your needs.
7mm Smooth black laminate board
Removable Lid
Full touring spec fittings
Sliding laptop shelf fitted
Foam lined
Gap at rear
Front panel for access to controls and headphone sockets
View Cases Here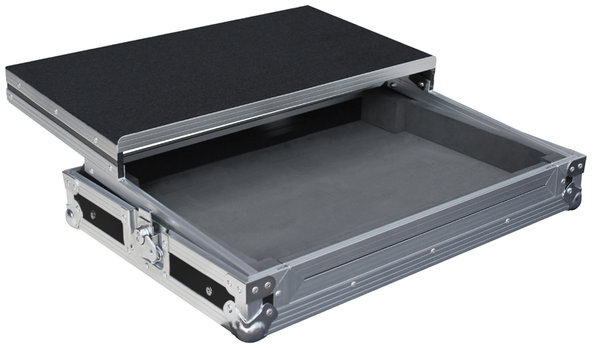 Nex Day Delivery
Flightcase Warehouse has kicked off Autumn with three exhibitions: PLASA London, The Showman's Show and BPM Pro, all of which had on offer the very latest in entertainment, events, pro sound, pro lighting and production technology. For us to protect our customers' gear to perfection, it's important that we're well-versed in the newest products to launch. Here are just four of the latest industry innovations that have caught our eye whilst we've been researching!
Microsoft Hololens:
The Hololens is a headset that blurs the lines between augmented reality and virtual reality. Whereas VR will see the user interacting entirely within a constructed simulation, the Hololens allows holograms and digital content to be seamlessly integrated with the area around the user. This means that users are a lot easier to engage with as they use the Hololens as well, allowing for greater application in trade events or experiences, where communication is vital. You can learn more about the Microsoft Hololens here.
RFID Tech:
Whilst not completely fresh off the drawing board, the application for RFID within events is becoming more prominent as companies recognise the incomparable value it adds to events. RFID has a number of practical applications – it can be used as a way of scanning people into an event quickly with sensors, to track attendee activity, or to help crack down on pirated or counterfeited tickets. It also offers great social media integration capabilities for that ever-important attendee engagement.
Allen & Heath ME Mixing System
Allen & Heath, leading designers of sound engineering technology, recently extended their ME personal mixing range to include a 16 channel personal mixing system. Intended for use in houses of worship, orchestras and other group musical settings, the mixer allows musicians to quickly develop their own monitor mixes independent of a sound desk engineer. It's said that there's no limit to the amount of ME-500 units that can be used within a single system, and the time saved during sound check in group settings could be revolutionary. Read more about the ME-500 systems online at www.allen-heath.com.
Wireless Lighting
We were seriously impressed with Astera Lighting's wireless lighting app at PLASA London when we attended and have noticed a growing number of users making the switch to a wireless method of control. Wireless solutions themselves aren't new to pro lighting engineers and are favoured for their ability to significantly reduce setup time and offer remote operation. As long as there's a steady power supply and a clear signal, then initial production takes a lot less time.
If you are looking to protect your most recent investment for delivering outstanding entertainment, talk to Flightcase Warehouse. Along with a huge selection of off the shelf solutions, Pro Flightcase can create bespoke equipment to your exact specification. To learn more, visit www.flightcasewarehouse.co.uk, email sales@flightcasewarehouse or call +44 1827 60009.

Virtual Reality (or VR, as it is commonly referred to), has become a key technology for many in the events, entertainment and technology industries. Its ability to immerse users entirely within a constructed world has granted those looking to entertain, engage and sell a unique new way to grab the attention of the public. There are some truly innovative VR experiences out there right now, with the following 3 uses delivering fun and fascination for audiences like we've never seen before.

Video Games
Right now video games are probably the most commonplace use for VR and most of us will be familiar with the concept – whether from news coverage, trade shows or from even owning a pair of goggles yourself (if you happen to be a VR early adopter!) Tipped as the next big feature for the gaming industry, VR is available for most platforms and an increasing amount of titles are being released with VR capability as standard. However, applying the tech to video games doesn't necessarily mean that the final product is always triple A rated and highly polished. In fact, many developers are embracing gaming in order to test the current limits of VR and to research what kinds of virtual experiences (such as driving or flying) can be offered in a safe, exciting and manageable environment.

Attractions
Big, red letter attraction names are deploying VR to astound and delight their customers, with pro VR company "The Void" being behind some of the most immersive experiences on the market to date. The Void aim to completely reinvent what it means to engage in VR and have developed technology that allows users to travel around a fully interactive space in real time / movement by mapping their virtual environment into a physical space.
This technology has led to ground-breaking and highly acclaimed experiences in North America and plans to expand into other locations are already confirmed (including a Star Wars- themed experience, reportedly). Madame Tussauds in New York for example houses a Ghostbusters experience, where outfitted with a proton pack you take on ghosts in a brilliantly realistic immersive world.

Films
Just like with gaming visionaries, directors at the forefront of innovation are exploring the opportunities of VR in the film industry. The 360 application of VR goggles has seen popular series' and films offering immersive add-ons, such as the Stranger Things (hit Netflix sci-fi horror) VR experience. It's not just film and TV directors taking full advantage of the latest tech though. Many tourist boards and travel authorities are using 360 degree video to make virtual tours around noted landmarks a fully interactive and immersive way to advertise.
These however, are just a few uses for VR that are popular at the moment. The scope of VR technology is almost boundless and holds a lot of opportunities as a way to draw users into an immersive and involving world. If you use VR, and want to make sure that you protect your valuable investment, contact sales@flightcasewarehouse.co.uk or call + 44 01827 60009 to ask about our specialist VR flight cases.

Big ideas, but without the budget to match? Donít let this put you off getting started in the music industry or taking on a project thatís a little out of your current comfort zone. As the saying goes, you have to start somewhere! So, weíve put together five handy hints, inspired by conversations with our music industry customers, to help you receive great results even whilst on a budget. 1) Donít limit your options When youíre recording, you need to have the flexibility to play as your music requires in order to capture a sound youíll be happy with. This doesnít mean cramping into a cheap, convenient space that offers dull acoustics, restricts the volume of play, or denies musicians the freedom they need to give their best performance. Post-recording editing can improve balance or enhance clarity, but it definitely canít make up for a poorly positioned mic or an amp set to an inappropriate level. Therefore itís always worth looking into rental rehearsal and recording spaces, often in kitted-out industrial units that grant greater flexibility, and at a much lower cost than a traditional studio if youíre on a budget or just starting out. 2) Spend your money carefully Depending on what it is you are looking to record, the kind of equipment you are going to be using will vary greatly from person to person. Microphones, direct inputs and cables will all have an effect on the final sound of your mix, with cheaper unfortunately often meaning that sound quality will suffer. However, with some industry knowledge and that bit of extra time sourcing options, you can get some great value kit that performs on a par with budget-busting options. Make sure to check online for professional guides and always keep an eye on second hand and used markets to buy premium equipment at a cut-rate price. Whilst recording music can be expensive, patience can lead to big drops in price. 3) Hardware makes a big difference Donít just buy the brand name you recognise or take up the first great deal youíre offered. Make sure that youíre as certain as you can be (we understand creative direction can change during the writing and recording process!) of what sound youíre wanting to create before you make any equipment investments. Take time to learn about the techniques behind the sound you what to achieve for a better outcome that will be lower-cost in the long run. 4) Take help where you can. We understand that this is a guide for those who are looking for initial advice, but sometimes avoiding professional fees can come at an unwelcome price. The discerning listener will always be able to tell an amateur from a pro, so any advice that you can get about recording, mixing and all the other facets of studio production is going to help you produce a better record and hopefully make more money from your efforts. 5. Once youíve made an investment, protect it. Flightcase Warehouse helps you to continue creating your own music and takes away worries such as costly damage in storage or transit. We stock thousands of off the shelf protective solutions for musicians and budding sound engineers alike and our Pro Flightcase team can create totally bespoke solutions for any need you may have. Email sales@flightcasewarehouse.co.uk for more info!